Today I welcome my first guest blogger, Hally Joseph, one of my favorite writing colleagues. I invite you to read more of her work and follow her excellent blog on books: hallyjoseph.com/whatimreading.
     For the next four months, my blog is open to guest bloggers by invitation. Please contact me if this piques your curiosity. 
     Take it away Hally:
RECENT ADVENTURES IN CHILDREN'S BOOKS:
A few years ago my mom and I were browsing through a bookstore in Asheville, NC and the angry face of a baby llama glared at us from the shelves. We laughed looking through Anna Dewdney's Llama Llama children's series with titles such as Llama Llama Red Pajama, Llama Llama Mad at Mama and for Christmas that year I even surprised my own mama llama with Llama Llama Holiday Drama. In my mid-twenties, I am hardly my mother's "baby" and I am years away from having any babies of my own — this would seem a children's book-less era of life. But something about these sweet and funny rhymes strike the same chord they did when I was a child. All I need to do is pick one up to remember.
PAST ADVENTURES:
Besides the Llama Llama books, I haven't much kept up with any children's books lately. My favorites will always be the ones of my own youth: the ones with dog-eared pages and fond memories of my grandmother reading to my cousins and me before we fell sleep. My grandmother was a kindergarten teacher and it always felt like she had access to books I never knew of, and in these books I had access to worlds I could only dream of.
Photo from HMH Books for Young Readers
One such book is If Anything Ever Goes Wrong at the Zoo by Mary Jean Hendrick. Children's series often focus on animals, and this one combined them all: a precocious little girl goes around the zoo one day, letting each department know that "if anything ever goes wrong at the zoo…" the monkeys, alligators, zebras, ostriches, etc. are completely welcome at her house. In true children's book fashion, this actually happens when a huge storm floods the flat-grounded zoo and the little girl's hilltop house becomes home for all the animals as the zookeepers take her up on her generous offer. Hello, adult nightmare and kid best case scenario.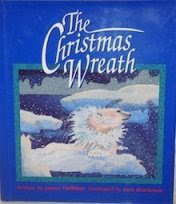 Photo from School Zone Pub Co
Another keeper in my grandmother's reading room was is (these books are still there and I still sometimes read them when visiting) James Hoffman's The Christmas Wreath. Light on writing and heavy on beautiful illustration, this wintertime story follows a polar bear who rubs his back on a door in a snowy town and gets a plain Christmas wreath stuck around his neck like a collar. As he runs through the woods and swims in the ocean, it gets tangled with leaves, berries, silver fish and then iced over into a beautiful wintry necklace. Desperate to rid himself of the heavy collar, he eventually returns to the door and it catches on the hook as he rubs his back. In the old wreath's place is now the world's most beautiful wreath, and this "collection" of imagery fascinated me as a child.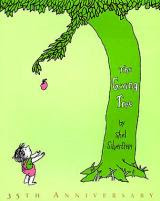 Photo from HarperCollins
On my own bookshelf at home is a classic that needs no introduction, but here is one anyways: Shel Silverstein's timeless The Giving Tree is one of the most heartbreaking (and honest) portrayals of love ever written for children or adults alike. A boy grows up with a tree and it gives and gives and gives to make him happy until the end of his days. As an adult, this one resonates more deeply with me than as a child. As a child, I probably wanted a tree that would be so nice to me. As an adult, I want to smack the boy. Ah, love!
Photo from Aladdin
I saved perhaps my favorite for last, the "indie cult hit" of nerdy horse-loving girls everywhere. Paul Goble's Caldecott Award-winning The Girl Who Loved Wild Horses is so beautifully illustrated that if I could pop through the panels like Mary Poppins jumping into a sidewalk chalk drawing, I would. I probably spent half of my childhood trying to magic my way into those pages. During a thunderstorm, a young Native American girl is swept up in a stampede of wild horses that she eventually comes to consider something quite like family. Goble's illustrations are otherworldly, and it's amazing that a British illustrator with a penchant for Native American culture hit such a truly bold, American look. Not just the horses are beautiful: small animals hide in the brush and birds hyphenate storm clouds and a blood-red moon. Everywhere you look, there is something more to see.
Obviously an honorable mention goes to David Pelham's Sam's Sandwich, the gross-out pop-out book to end all gross-out pop-out books. What were your favorite books as a child? You can read more of my (more grown-up) book reviews at hallyjoseph.com/whatimreading.